4 stage wins of the 100th Tour dr France, Marcel Kittel, Team Argos Shimano ride on FELT F1 bikes
Monday 22 July 2013 Filed in: General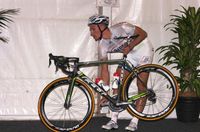 Marcel Kittel with his FELT F1
Marcel Kittel, winner of what is often termed the "unofficial sprinters' world championship" as he took the final stage of the 100th Tour de France on the Champs-Elysees in Paris last night, says that teamwork lay at the heart of his success, his fourth stage win in this year's race.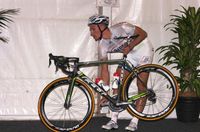 Marcel Kittel with his FELT F1
. Lotto-Belisol's André Greipel finished second with Mark Cavendish – winner here in each of the previous four editions and until this year never beaten in Paris – third.
Cavendish has also been reflecting on the frantic finale to the race's concluding showpiece, a stage which deviated from the established script not only for the fact he failed to win, but also because of that late finish, plus a parcours that took the riders around the back of the Arc de Triomphe, rather than turning round before it.
Last year, Kittel abandoned his first participation the race early on due to stomach problems, but this time round he has emerged as the pre-eminent sprinter in the Tour, taking four wins to Cavendish's two – the latter's worst haul since his debut Tour in 2007.
Kittel wore the yellow jersey following the opening stage of this year's edition on Corsica after he alone of the fast men avoided getting dropped as a result of a crash 5 kilometres from the end. At 23 years of age, he has emerged as the clearest contender to end the sprint domination that Cavendish has had over his rivals for six years now.
Marcel Kittel of Argos-Shimano, winner of the closing stage of the 100th Tour de France in Paris.